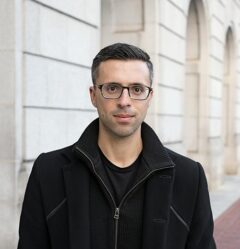 Ezra Klein in Conversation with Amy Lerman
New York Times Columnist and Podcast Host
October 5, 2023 — 4:00 PM
Zellerbach Auditorium, Cal Performances — UC Berkeley Campus
Add to Google Calendar
10/05/2023 4:00 PM
10/05/2023 6:00 PM
America/Los_Angeles
A Liberalism That Builds
Register Registration for this special event is being co-managed by Cal Performances. Subscribe to the Berkeley Graduate Lectures newsletter to receive a discount code for free tickets. About this lecture California's deepest problems — the skyrocketing cost of housing, the lagging … Continued
Zellerbach Auditorium, Cal Performances - UC Berkeley Campus
Berkeley Graduate Lectures
lectures@berkeley.edu
false
MM/DD/YYYY
Cal Performances
Registration for this special event is being co-managed by Cal Performances. Subscribe to the Berkeley Graduate Lectures newsletter to receive a discount code for free tickets.
About this lecture
California's deepest problems — the skyrocketing cost of housing, the lagging development of clean energy, the traffic choking the state — reflect an inability of Democratic governments to build real things in the real world quickly and affordably. The result is liberal governance that routinely fails to achieve liberal outcomes.
How did we get here? And what can we do about it?
About Ezra Klein
Ezra Klein is an Opinion columnist and podcast host at the New York Times. His podcast, "The Ezra Klein Show," receives more than a half-million downloads per episode, and is routinely in the top 25 podcasts on Apple's charts. In 2021, Time, New York Magazine, and The Atlantic all named it one of the podcasts of the year. He's among the Times's most-read columnists, where he has merged traditional opinion writing and explanatory reporting to bring clarity to policy debates often mired in complexity.
Prior to his work at the Times, Klein founded and launched Vox, the popular explanatory news site. As Vox's editor-in-chief, and then it's editor-at-large, he helped create, and then became executive producer, "Explained" on Netflix, which is now in its 5th season. He also launched shows on HBO and YouTube. Prior to his work at Vox, he launched "Wonkblog" at The Washington Post.
In 2020, Klein published "Why We're Polarized," a bestselling examination of the forces driving polarization, and paralyzing politics, in the United States.
About Amy Lerman
Amy E. Lerman is the Michelle Schwartz Chair and Professor of Public Policy and Political Science at the University of California, Berkeley, and Director of the Possibility Lab at the University of California.Her research is focused on issues of equity, public opinion, and political behavior, especially as they relate to public safety and social inequality in America. Professor Lerman's scholarship can be found in a wide variety of academic journals and has been featured in numerous media outlets including the New York Times, Washington Post, USA Today, CNN, and NPR. She consults widely on issues related to civic engagement and trust in government, prison reform, access to higher education, and law enforcement mental health.
Professor Lerman is the author of several award-winning books, including work on the American criminal justice system in The Modern Prison Paradox and Arresting Citizenship. Her most recent book, Good Enough for Government Work examines how perceptions of government shape citizens' attitudes toward privatization and public programs.
In addition to her research, Lerman previously served as a speechwriter and communications consultant for national nonprofits and members of the United States Congress, a community organizer in Latin America and Southeast Asia, and an adjunct faculty member of the Prison University Project at San Quentin State Prison. In 2023, Lerman was elected to the American Academy of Arts and Sciences.
Related Lectures